Leah's cakes and other baked goodies are great to eat and beautifully presented. She is a pleasure to work with and accommodates one's every request. I highly recommend her for your special occasion!
-- P. V., Moscow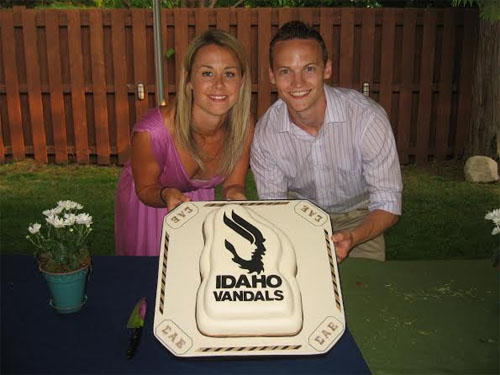 Leah,
Both cakes were absolutely perfect and everyone was extremely impressed. Everyone asked, "who did these cakes?" and then said, "wow, she is so creative" and "do you think she would make us a cake for xxx?" I assured them that yes, I would give them your name. The guys loved the grooms cake and G. was so pleased. I will get you a picture of both with the bride and groom in case you want to use them too.
Thank you again, everything went off beautifully.
-- G. M., Moscow
Thank you, Leah. You are an amazing artist. You made our 50th wedding anniversary cake look like a watercolor of our hilly Palouse wheat field. What's more it was accented by three dimensional Cosmos- one of my favorite flowers. It was too beautiful to eat,

but

it was truly delicious too.
-- G. L., Deary
Leah's cakes are several cuts above her competitors' because she's willing to attempt the unheard-of in terms of decorating. They're amazing, and taste great too.
-- J. P. and G. W, Moscow